Movie Mashup Monday: Pirates of the Caribbean
If you're feeling troubled, hopefully this clever and fun collection of mashups will help wash it away. Check out the Pirates of the Caribbean mashups I found online.
I Suggest a Professional
Pirates of the Caribbean and Th Little Mermaid move mashup
Found on Pinterest, couldn't find creator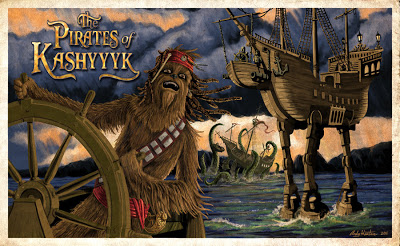 The Pirates of Kashyyyk
Pirates of the Caribbean and Star Wars movie mashup
Art Credit: Andrew Hunter
P.S. Here's a bonus character mashup I thought was fitting. You can see more interesting character mashups on
Short List
.
Includes props and costume elements from Alice In Wonderland, Pirates Of The Caribbean, Fear And Loathing In Las Vegas, Charlie And The Chocolate Factory,Edward Scissorhands, Ed Wood, Sweeney Todd and Rango.
Thank you for visiting the blog and website of Young Adult Fantasy Author, Emilyann Girdner. Please feel free to browse, check out her publications or reach out to her with questions or concerns at emilyann@thelabyrinthwall.com.