Welcome to "Throwback Thursday Fantasy Relay." What will you
find in this series? I'll feature either a Fantasy book or movie, share some
lesser known information on it and if I'm familiar with it, I'll share a brief
review as well.
Bridge to Terabithia
Bridge to
Tarabithia
ranked 7.1/10 on Rotten Tomatoes. That means 70% of voters liked
it, and that's actually a decent score for the Rotten Tomatoes site.
Bridge to Terabithia release year: 2007
Summary from Rotten Tomatoes: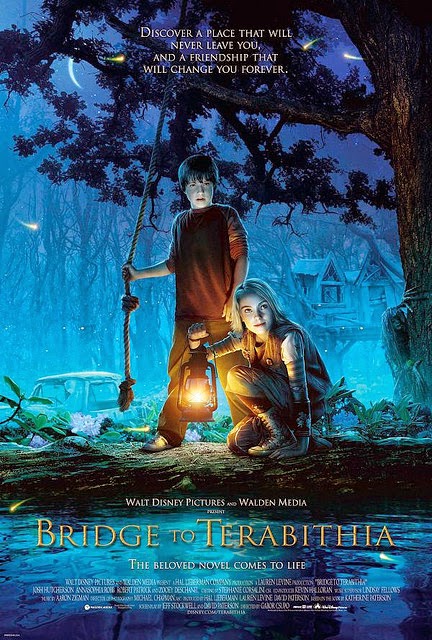 "Bridge to Terabithia" is a fantasy/adventure
story of friendship, family and the power of imagination Jess Aarons is an
outsider at school and even in his own family. Jess has trained all summer to
become the fastest kid in his middle school class but his goal is unexpectedly
thwarted by the new girl in school, Leslie Burke who competes in the "boys
only" race and wins. Despite their awkward introduction, the two outsiders
quickly become best friends. Leslie loves to tell stories of fantasy and magic.
Jess loves to draw, but until he met Leslie, it was something he kept to
himself. Leslie opens a new world of imagination for Jess. Together they create
the secret kingdom of Terabithia, a magical place only accessible by swinging
on an old rope over a stream in the woods near their homes. There, the friends
rule the kingdom, fight the Dark Master and his creatures and plot against the
school bullies. Thanks to his friendship with Leslie, Jess is changed for good.
Brimming with fantastical creatures, palaces and beautiful forests, the world
of Terabithia is brought to life.
(I found the IMDB summary lacking)
Fun Stuff:
Well, I missed The Bridge to Tarabithia train and never saw
it! L
However, it's certainly on my list, now that I've remembered it's out there.
And, as I was researching this loved fantasy movie, I realized that the lead
male actor is young Josh Hutcherson, who we now see playing Peeta in The Hunger
Games movies! For me, that's even more cause to check out this movie.
Here's a fun interview with the stars of Bridge to
Terabithia:


My Review:
I haven't seen it yet! But it's on my list. I'm excited to
have been reminded of it during this series J
Questions:
Have you seen Bridge to Terabithia and would you recommend it?
Are there other fantasy books or movies you'd like to see featured in this
series?
Thank you for visiting the blog and website of Young Adult
Fantasy Author, Emilyann Girdner. Please feel free to browse, check out her
publications or reach out to her with questions or concerns at
emilyann@thelabyrinthwall.com.