Welcome to The Labyrinth Wall Monster Party! The monster party blog fest is a celebration of The Labyrinth Wall book release, which is available now. I invited participants to post about a monster, share The Labyrinth Wall release information and jump around to read about everyone else's monsters. Join the party by hoping around to check out the monsters, and have a blast!
Before I get to my labyrinth monster, I've got a couple of prize winner announcements! I didn't see anyone post a number for how many quotes they found. However, I went ahead and randomly selected from posting participants (my number picked a random number from the options I gave him).
Julie Flanders
has won the $15 Starbucks giftcard from The Labyrinth Challenge. I already sent the card your
way and congrats again.  🙂
Also, I had announced previously that a winner would be selected from The Labyrinth Wall Monster Party posting participants to receive a $15 Amazon giftcard. The winner of this prize is
Heather Holden
! Congrats to you as well =) Though I could only offer limited thank you prizes, I'm grateful to all of you who have participated in these events and shown interest in the book. You guys are all awesome.
My Favorite Labyrinth Monster…
Ludo!!!
He's furry, he's giant, he's clumsy and he's absolutely darling. Because of him, as a kid I wished I would find myself in a labyrinth like Sarah did in the Labyrinth movie from the 80's. He is the definition of don't judge a book by its cover. While he may not be the most graceful or even, wise, creature, he has a big sweet heart. Plus, who doesn't love his ability to summon rocks? It's pretty cool.
More of my favorite labyrinth monsters are in The Labyrinth Wall, particularly one who speaks in rhymes and riddles, but I'll refrain from telling you too much about that and let you read for yourself 😉
Before I share some information about The Labyrinth Wall, I invite you to check out
Racchel Morgan's post and Cynthia Shepp's post 
which are up today as part of this event… they include extra information about  The Labyrinth Wall.  Without further delay, let's learn more about The Labyrinth Wall…
The Labyrinth Wall
 (Obsidian Series, Book1)
The story of a young woman who discovers that although labyrinth walls confine her and her enemies try to repress her, the power of hope can set her free…
"Full of exciting situations, humor, and a good look at the human psyche of a labyrinth prisoner, this book pulls you in, and doesn't let you go until the very end." More on goodreads ~ Desert Rose Reviews
The Labyrinth Wall:
Availability:
Paperback: Delays on physical copies, look for them later in January through Barnes &
Noble and
Amazon
Excerpt:
(There are varying fun facts and excerpts to be found at sites participating in this
event)
We sit together in silence and pretend like its three weeks ago before my world changed. Extracting the chalk from my box, I spend a few moments sketching on the wall. Creativity often helps me sort out my thoughts. The entire space is covered in my depictions but more always manage to fit. My arm dances in
different directions, drawing what feels natural. Not allowing my mind to plan anything seems to extract the best results.
My sketch depicts a person slouched over in tears. With the creation of lines around and above her, the figure becomes enclosed in a cage.
"Guess that's how I feel." I look over at Blue sadly. It didn't take away the aching in me, but the drawing did help me figure out my emotions: that I'm trapped like a prisoner. A prisoner of the bounds set by the Creators and those I've brought on myself. After tucking the chalk back in the box, I close its lid.
Explore the labyrinth map…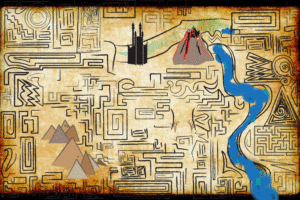 To subscribe for more updates, play games, and grab goodies (some are FREE), visit www.thelabyrinthwall.com!
Don't forget to hop around to all the participating sites and show some comment love…
The Labyrinth Wall Party Sites:
And, as if I haven't crammed enough into this post, I wanted to share some photos from my first ever book signing which took place on December 29th in Tallahassee, Florida! It was a wonderful experience where I read the first chapter of my book and answered audience questions. I was honored that many wonderful people came and I don't know if it's really appropriate to say how many books were sold, but I will say my expectations were exceeded. We even had a fun photo booth set up to dress like characters, but I don't have those shots available yet. I will try to get them up soon.