Hi Everyone,


This is a follow up to
the news that we cancelled the book signing today in Orlando… these are my
personal words, not a statement in any way that Barnes & Noble has made…


Regarding the Reasons
for Cancellation and a Message of Love:
Here in Orlando, we started the weekend with the news of the
tragic shooting of the talented Christina Grimmie. Now today, Orlando woke up
to the news of the mass shooting last night… the last I heard the count
is at least 50 people have passed away.
This is so heartbreaking! I can hardly pull myself together
to try to address all of this. Any day, this would already be unimaginable. But
in addition, the wonderful staff at Barnes & Noble and I have had to
decide how to proceed regarding the B-Fest event this afternoon.
The staff here has been so supportive and loving in my
decision to cancel the event today. This is a heavy decision as I don't want to
let down those who planned to be at the signing and I in no way want to further
instill any sense of panic, when that is just what I believe these attackers
would want.Rather, this decision is out of respect and love for those
who have been lost. I felt I just couldn't quite talk to anyone about writing
and my books on a day like this. I couldn't carry on with that when my heart is
somewhere else and my words and energy just have to be dedicated to the events
of this weekend and to love in the midst of it all. The decision is also
because I felt I had to put all else aside today to shout the most important
message… love each other today and every day. We hear this so much, but we
have to live it. We all mess up in this, but we all have to keep trying to put
love first.
If you are out working today, tell your co-workers your
care. If you are with your family today, tell your family you love them so
much. Hug each other; love each other. Love is the greatest weapon.
Don't let violence and terrorism break us apart, let them make us stronger!
I cannot lie to you, as an author building some presence in
the public eye, it is scary to stand up and say something about the things that
happened this weekend. It is scary to do or say anything right now. But the
message I want to spread is so much stronger, so I have to rise above my fear
and shout love in the face of this! I don't have any idea what exactly our law
enforcement or military should do about all of this, but I know what I'm going
to do. I'm going to go on loving all people every day! If you knew a victim of these shootings this weekend, I love
you and you are not alone… so many people love you, God loves you. To those
we lost in the shootings, you are loved and may your souls be at peace.
Some of you this message reaches may feel unsympathetic or
have lost faith in humanity… I'm talking to you too. If you can admit that
perhaps you may even understand the shooters of these events, from any
perspective, be it a cause, statement or pure hatred for the world you feel has done you
wrong, this message of love is for you too! You are loved. There is a good
chance this world has done you wrong, which is all the more reason to make it a
better place. If you are planning an act of violence and feel the sting and
sickness of all of these shootings and war, but you also feel you are fighting
for a cause, please, please, please know that you are loved too. But I implore
you… please open your heart and your mind to love in this world and to fighting with love. I know this is hard to hear if you are hurt due to pain in your
life, but I have faced pain too, and have found a different solution than
violence. Please no more guns, no more attacks. Find peace, find courage, and
hope in love and change.
I know you are probably thinking that love isn't so easy to
come by as I make it sound… but please stick with me here, whoever is reading
this. You may not be able to stop by the store and buy love and
peace, but I promise you… you can find it. In fact you have it now if you'll
take it. I will say it again, I love you, others love you, and I do believe in
a God who loves you too (though you are entitled to your beliefs and if you do
not believe in Him, I pray you can accept the love of others).
If you have been convinced for any reason (personal pain,
disconnection, or a cause), that an act of violence is a solution, do one thing, please read the rest of
this. Stop and take a minute to just consider that violence may not be the
answer. Really consider alternatives for a minute. And rather than pulling a trigger,
seek love.
Where do you find that love? You find love in your friends
and your family. If you say they are gone away or dead, I am so sorry to hear
that, I have lost many I love too (including my sister when I was younger)!
I feel that pain, I understand. If you feel you don't have friends or family,
offer love to your co-workers. Offer love to anyone in your proximity and life,
because love will come back to you. Think you are alone? Don't be! Seek
counseling where you can share your pains or volunteer for a cause helping
people that brings joy and helps lives. And as you show love to others, don't
focus on if they have been unkind before or if you're scared of rejection, put
the love out there anyway with everyone you know! Listen to others hurts; you
may be surprised that listening can help heal your hurts. Offer to lend a hand,
bake someone a meal, volunteer at a shelter or offer some help to neighbors.
Get connected in your community and give love. I don't care what community
we're talking about, be the light and love.
You can do this, I know you can. And let me tell you
something about showing love, because I have seen it transform my own life…
you WILL come to feel love and happiness in return. Am I saying you will never
again be struck by tragedy or fear? No, but you will be making this world
better. And in the face of fear or tragedy, you will have the courage to shout
the message of love that will keep making the world better. Robbing loved ones
from each other and making people scared to leave their homes will build a
world of even stronger distrust and a terrible future. We are
better than that, you are better than that. Don't let violence and terrorism break
us apart, let it make us stronger. Love and be loved. Whoever you are, you can
make a difference!
#PRAYFORORLANDO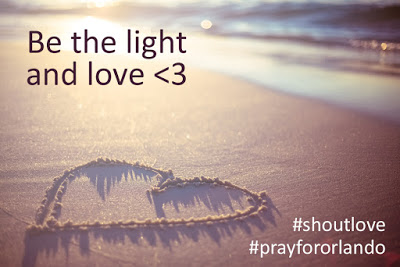 I had to summon quite a bit of courage to post the video below, but if the message makes anyone out there feel loved, it is worth it. Hugs to all.
How We Can Help Orlando Victims and Families:


According to this CNN article, here are some action steps I'm aware of that we can be doing specifically to help the Orlando shootings victims and families.
One Blood has been needing blood donations. Find out more here.
Monetary donations can also be made for survivors and families. Find out more here.
* Revised Update Regarding Rescheduled Event Details (August 6th, 2016):
Here is a blurb regarding the rescheduled event:
Barnes & Noble and 
Emilyann Girdner
 are
ecstatic about the rescheduled book signing and workshop this weekend. The
event will be held August 6th (1-7pm) at 
Barnes & Noble
; the
workshop will run from 2-3pm. The story development workshop was created by
Adaptive Studios and will be facilitated by Emilyann. Learn how to write a log
line, create a spark page, and re-imagine popular characters. Enjoy a book
signing, workshop, coloring activities, and photo booth (we encourage you to
attend in any cosplay, as long as it's family friendly). This will be the
ultimate time to develop writing skills, dress up, color, and enjoy being kids
at heart!Emilyann will be signing copies of her books, The Labyrinth Wall and The
Haunted Realm, following the workshop. The event is free to attend (with
giveaways such as free workshop booklets and coloring pages while supplies
last). Autographed books will be available for regular retails prices of $12.75
for The Labyrinth Wall and $12.97 for The Haunted Realm.