Orlando Event: Barnes & Noble Get Pop-Cultured
Thank you to everyone who has been kindly inquiring when I'll be out for an event again. I have not been able to make the time commitment for any conventions and probably will not be able to do so until the end of the year (due to preparations for the launch of Obsidian Series book 3 in November). That said, I couldn't pass up the coming Get Pop-Cultured Cosplay event with my awesome friends at Barnes & Noble in Altamonte Springs, FL! So, I'll be venturing out of my writing and book launch prep cave briefly to dress up and sign books at the fun event. I hope to see many of you there. Any guesses who I'll cosplay? Can't wait to see what characters you choose. 🙂 Love and hugs to all! <3
Get Pop-Cultured with Barnes & Noble at Altamonte Details (July 29th, 2017):
Cosplay parade at 2:00pm (come in costume)
Photo booth (there will be props)
3:00pm cosplay & creativity chat
3:00pm cosplay jewelry & keychain making while supplies last
New Obsidian Series fantasy book cover reveal
Author signing of Obsidian Series books (3:30pm)
Get Pop-Cultured sales and discounts!
Tremendous fun to be had in general
More Details:
Celebrate Get Pop-Cultured with These Great Offers at Barnes & Noble
https://stores.barnesandnoble.com/event/9780061869696-0
Also, two more fun things…
Shout Outs:
1. I want to give a big shout out and thank you to David at The Newest Rant for mentioning me and The Labyrinth Wall on your site! If you have a moment, please venture over and check out David's great website (you can also see the other cool stuff he found at Wizard World in St. Louis). =-)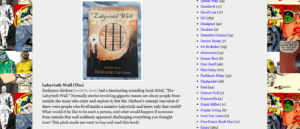 2. A lovely friend I made at AltCon a while back has started "Luna and Draco (Druna)" a Wattpad Harry Potter fan story. Please check it out if you get a chance.
Have a great week!
SaveSave
SaveSave
SaveSave
SaveSave
SaveSave