What Agents Say About National Novel Writing Month (NaNoWriMo)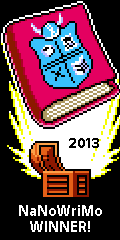 Now that NaNoWriMo is upon us, I'd love to share some information I've accumulated about the event in my experience and research. A couple years ago when I was first dabbling with the idea of publishing and becoming an active member of the writing community, I became interested in NaNoWriMo. So I went to the website for information about how NaNoWriMo started and the spirit of the event. Whether you have never written a novel before or have published works in the past, you are invited to be a part of the contest. The idea is that the event motivates you to write a novel (first draft anyway). You have to reach 50,000 words to be considered a winner. Last year was the second time I participated in the event and the first time I completed my 50,000 words in time and became a 
NaNoWriMo winner
. For me, it was most certainly a fun and rewarding experience. If you're considering participating in NaNoWriMo2014, I hope the insight, tips and advice below are helpful.
What are some benefits of NaNoWriMo participation?
Participating allows you to solidify an achievable goal in your writing progress The event
motivates
you to complete the first draft of a novel (possibly your first book ever) You often enjoy connecting with the writing community during the event and learn a lot from Author and writer peers Sponsored prizes are available for winners which often include discounts on writing and publishing related services A sense of accomplishment comes with completing the goal There's no reason not to list the win with your achievements in your media kit or on professional profiles (it certainly shows dedication). You are left with a written product (that will no doubt need more polishing), but is quite the prize if writing is a hobby or could be your first published book in the making if you want to become an Author.
Curious about the NaNoWriMo process?
 Here is a quick breakdown of what you'll do during the event, consolidated from the
"How it Works" page
on their website:
Overall goal: Write a 50,000 word novel rough draft in the 30 days of November
Develop your novel concept (you can outline as well)
Earn badges by connecting with other participants and building your profile
Get inspired and plan motivational benchmarks
Start writing (as of November 1st, you can get going on your word count)
When you're finished writing, click on the trophy next to your word count to begin validating your novel
What agents say about National Novel Writing Month:
When I first considered participating, I wondered if this event should simply be for fun, or if it would be something advantageous to my writing goals of publication. If after writing the novel for NaNoWriMo I were to decide I really like it and want to send it out to agents, would they want to know it was involved in NaNoWriMo? Fortunately, I follow a fantastic blog run by New Leaf Literary & Media, Inc., where the very generous agents answer writer's questions of all kinds. Naturally, I took my quandaries to them.
So if you have found yourself in the same frame of thinking and would like to know exactly what agents think about NaNoWriMo, here is your answer:
My Questions:
I've been considering starting my next novel during NaNoWriMo and participating in the event. I realize the book would need more words than 50,000 and further editing after November . I've seen blogs mention agent's dreading NaNoWriMo, but I've seen other sites suggesting NaNoWriMo isn't a bad thing to have under a writer's belt. So, what do you say about this? Even if I do it for fun, is it worth mentioning to an agent when the novel is polished or using the certificate on my author site?
Agent's Answer:NaNoWriMo is great. There's a great support group and doing it with other writers can be great motivation, and if you really want to get out a first draft, that's awesome.
Agents say they dread NaNo because there are people out there who write their 50K word draft and then
query it immediately. As long as you're revising and incorporating feedback from crit partners and then polishing up you have nothing to fear.


However, thousands of people do NaNo, it's not necessarily something to put in your query. (You can
however, totally put their certificate on your site).
A huge thank you to the agents of New Leaf Literary for their time and helpful 
answer
.  Looking back now that The Labyrinth Wall has been published, I would absolutely say NaNoWriMo was beneficial for my writing career and will continue to be a tool in the future. As I mentioned above, it's very motivational and inspiring to be working toward a goal as fellow writers do the same. Is it likely that any book will be ready for publication immediately after NaNoWriMo? That's not likely at all, but it certainly helps get a first draft out the door.
Well, I hope this post has been helpful.  If you are interested in participating, I do recommend you sign up as soon as possible and begin planning your project (and hurry, November will fly by). If you are looking for a buddy during the event, add me 🙂 This is my username: 
emilyanng
. I plan to give it a go this year.
Here are a couple more fun and helpful resources I've come across for NaNoWriMo preparation and participation:
My questions for you:
Do you plan to participate in NaNoWriMo? If you're a veteran of the event, what memories, tips and resources can you share?
Keep Imagining,
Emilyann