Happy Friday! I have missed you all as I have been absent from the blogging community. Per usual, more exciting developments happened for me in recent months. Moving into a new home, being part of a lovely wedding and receiving exciting news about being an award finalist have kept me busy.
My husband's sister (though I've claimed her as my own sister), had a beautiful wedding. My hubby and I had a wonderful time (we were both in the wedding party).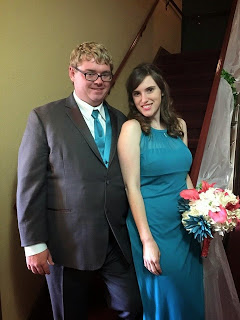 Dante Rossetti Awards 2014 Finalist Announcement:
And I was thrilled to learn in March that The Labyrinth Wall made the Dante Rossetti Awards 2014 for Young Adult Novels Finalist list!
I am so grateful for the many blessings in my life, but I am also mindful of making sure to balance all of the things going on. Life and work are wonderful, but don't leave much time for blogging, however, I don't intend to give it up. Through blogging I have learned so much about the literary community and have found an outlet for creativity. So, I have decided to become a seasonal blogger. This will give me time to prep each blog series then post, and prep again on my next break. Summer shall launch this seasonal venture, and I'm excited to announce I already have several Throwback Thursday: Fantasy Relay posts scheduled, so stay tuned.
All that said, I hope everyone is well and I'm so thrilled to be back on the blog. Comment with your updates and fill me in on your 2015, I can't wait to hear what you've been doing. And enjoy this Memorial Day weekend.