Throwback Thursday Fantasy Relay Featuring Fantasy Movie Stardust!
Welcome to "Throwback
Thursday Fantasy Relay." What will you find in this series? These posts either
feature a fantasy book or movie and some lesser known information on them. If
I'm familiar with it, I'll also share a brief review as well. Thank you for
visiting and please feel free to share your thoughts in the comments.
Up this
week:
It may be a
misconception on my part, but I believe this movie is a lesser known film. However,
it is one worth seeing for anyone who enjoys fairy-tales, fantasy, adventure and
corny humor.
Stardust
release year: 2007
Summary from IMDB:
In a countryside town bordering on a magical land, a young
man makes a promise to his beloved that he'll retrieve a fallen star by
venturing into the magical realm.
What are some of the ways it has left
a mark on culture?
From what I can tell, this movie hasn't received much media attention. However,
more and more as time goes by and I mention it to friends, the ones who have
seen it seem to love it. So, who knows? Perhaps it stands to gain more
popularity in years to come.
Lesser known facts about Stardust:
There is a
camera shot error when a knife switches places during once scene (MovieMistakes.com):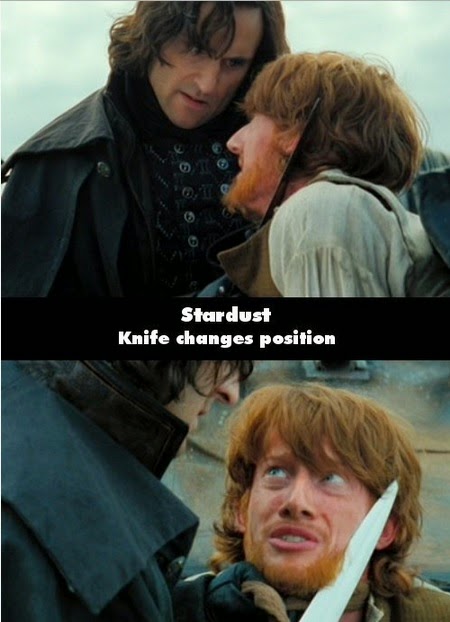 See what Michelle Pfeiffer says about her evil laugh in the
movie:


My Review:
This movie
has a bit of an awkward feel to it, as it seems to be less cohesively put
together than some fantasy stories like Lord of the Rings. By that I mean, it
feels a little "all of the map" at times. But in the same right, this gives it
a unique feel and certainly there is a lot to be said for the unexpected
fantasy surprises. I give it 4.5 Stars!
Questions:
Are you a Stardust
fan? What do you think makes this film special or do you not care for it? Is
there a different fantasy movie or book you'd like to see on Throwback Thursday
Fantasy Relay?
P.S. My plan is to share an end of the year wrap up post before 2015, but this month is very busy. So in the event I don't make it back to blogging before January, Happy holidays to you all =-)
Thank you for visiting the blog and website of Young Adult Fantasy Author, Emilyann Girdner.