What will you find in the "Throwback Thursday Fantasy Relay"
series? I'll feature either a Fantasy book or movie, share some lesser known
information on it and if I'm familiar with it, I'll share a brief review as
well. The fantasy genre is vast, encompassing epic fantasy, contemporary
fantasy, and more, so this series is full of variety. There are so many fantasy
films and books that are making a lasting impression on society and are worth
discussing, so here I go… Perhaps you'll stumble on a fantasy gem you'd never
heard of in this series.
Throwback Thursday Fantasy Relay: The Swan Princess!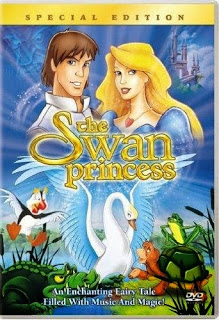 In my world, classic fantasy cartoons and children's books are just as important in book and movie fantasy genres as stories created for more mature audiences. So spread your wings and enjoy the
flight as we dig into The Swan Princess today. This film was one of the first fantasy cartoons that sparked my love and appreciation of fantasy and imagination.
According to
Wikipedia
, The Swan
Princess didn't do so hot in the box office, and I have to admit, I don't hear
about it much from anyone else. I may have been a lone fan, but perhaps I'll
convince my fellow fantasy relay crowd that this is one worth checking out.
The Swan Princess Storyline from IMDB:
As children, Prince Derek and Princess Odette are forced to
spend their summers together by their widowed parents, who hope that the two
will eventually fall in love and marry, so that the kingdoms of the two will be
united. As children and adolescents, Derek and Odette can't stand each other,
but as young adults they begin to see each other in a different light and fall
in love with each other. But one night things take a bad turn when Derek
unintentionally offends Odette, who then refuses to marry him if he can't prove
that he loves her for who she is and not just her beauty. Odette and her father
are then attacked by Lord Rothbart, a vengeful sorcerer who was cast out of
William's kingdom when he plotted against the king. In the form of a beast,
Rothbart mortally wounds William, and kidnaps Odette then places her under a
spell. Now it is up to Derek to rescue Odette by showing his undying love. But,
will he be in time?
My
Review:
This move is 4 Star in my opinion, though it would likely
have been a 5 Star had I been writing this in middle school. I really enjoyed
this movie in my youth. In this film, the two main characters meet as children
(and are betrothed), which makes for a fun progression of their relationship
(going through the awkward stages and defiant teen stages). For a cartoon, I
think this development of history for the two characters was very refreshing. I
also thought the characters themselves were pretty well developed (as cartoons
go). And as should be the case for most well developed animated movies, the
side characters are a ton of fun (with humorous lines galore).
In addition, the fantastical elements in the story are pretty
well done. Who doesn't love a good curse? The settings and the swan
transformation scenes are very beautiful. One hopes to escape when sitting down
to watch a fantasy movie, and for me this fun little flick doesn't disappoint.
So what do you think? Is this one you like or do you think
you'll check it out? Do you have any other book or movie recommendations for
this series? And what else is going on in your worlds?  J
Keep Imagining,
Emilyann